Contribute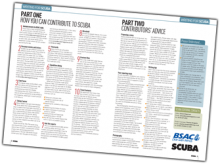 Got a story? We want to hear from you!
We at SCUBA are often asked how BSAC members can propose news, announcements and features for publication in the magazine. While it isn't possible to publish everything that lands on my desk, I have plenty of suggestions that can help your club highlight its activities in the magazine. Our door is always open to BSAC members, and anyone who wants to drop me a line or give me a bell to discuss projects for publication will always be welcome.
SCUBA editor Simon Rogerson
We have just updated the handy contributor's manual (pictured above). If you are considering writing for SCUBA, this should be your first port of call. Packed with valuable information, the guide is ready to download here.
Use the form on the Contact page to send us your story idea,
you can even upload a photo!