Join BSAC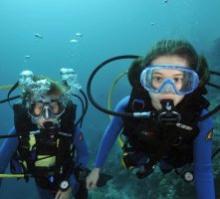 There are two ways to join BSAC
The most popular way to become a BSAC member is via a club. By joining a BSAC club, you will get all the advantages of learning and diving in a vibrant club atmosphere with the added benefits of social activities and ongoing training and support. As club member you are also entitled to the full range of BSAC membership benefits. With more than 1,100 clubs around the UK and overseas, there's bound to be one near you.
More information on how to join a BSAC club
Find a club near you - Form a BSAC Club of your own
Alternatively, you can join BSAC Direct. With BSAC Direct you are entitled to all the BSAC membership benefits without joining a local club. You can also continue your diver training through a BSAC Centre or access our wide range of Skill Development Courses. With BSAC Direct, you can also go on to join a BSAC Club at a time that's right for you.
Some of the benefits of membership…
Dive and train with friends - anywhere! BSAC has more than 1,000+ clubs and 300 centres around the world
FREE Worldwide Third-Party Liability insurance, up to the value of £10m
Affordable diver life cover, critical illness and income protection cover
Have your say - as a member of the UK's Governing Body for diving
Access to our internationally-recognised Diver Training Programme
Ongoing support and training with the BSAC Regional Coaching system
FREE monthly subscription to SCUBA magazine, worth £50.40
10% or more off BSAC Shop items
Unlimited access to expert advice from our experienced and friendly BSAC Team
Save on your diving holidays through BSAC Travel Partners
Exclusive discounts on our specialised dive travel insurance Travel4Scuba
Unique access to members only areas of bsac.com
Divers' events, including shows and conferences
Plus... BSAC member savings on a great range of leisure, retail and travel offers
World-class training, amazing diving and great company – there's so much more to being a member of BSAC. Not yet a BSAC member? JOIN NOW!