Three new 5mm wetsuits from Typhoon
Submitted by

jon

on Wed, 09/25/2019 - 12:50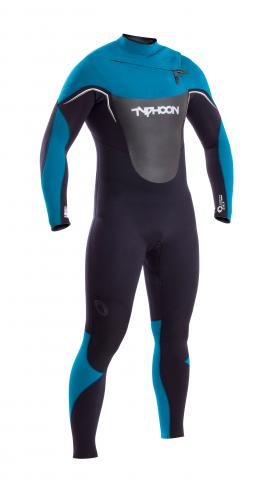 Typhoon International, one of the world's most reputable wetsuit manufacturers has launched its latest selection of brand new 5mm wetsuits for the approaching autumn and winter season.
Three wetsuit models are available to suit every type of activity and budget.  The flagship Kona 5mm in a choice of OFZ (overhead front zip) and Back Entry suit leads the way.  The Kona pair combine engineered technology with expert styling making them a firm favourite for professionals and amateurs alike.
The OFZ entry system gives complete flexibility in the back panel, allowing the wearer to minimise restriction while maximising performance. The Back Entry version, meanwhile, is ideal for kayakers allowing complete freedom of arm movement.
The Kona features new fabric technology which has enabled Typhoon to make some significant updates to the company's tried and tested designs.  A 'liquid seal seam' system combines with the most innovative brushed fleece thermal liner available at the back of the body to give maximum protection against the elements, while GlideSkin neck seal and an ergonomic design ensure maximum comfort.
Typhoon also presents the Vortex 5mm, again in both OFZ (pictured) and Back Entry system.  Like the top of the range Kona, the Vortex features many of the same cutting edge construction features to provide an all-purpose high performance wetsuit.
For entry level watersports enthusiasts looking for a cost effective solution Typhoon has created the Storm 5mm Back Entry Wetsuit.  Glued blind stitch construction, GlideSkin neck seal and double knee pads are just some of the features that will provide a high level of protection from active sports in the cold water.
Typhoon's new wetsuits, available in a full range of sizes, and in both men's and women's fits are perfect for every water activity from championship dinghy sailing, stand up paddle boarding, surfing and kayaking to simply messing about in the water.
To find your nearest stockist call a member of the Typhoon team on +44 (0)1642 486 104.
Prices:
Kona 5mm OFZ              £239.95 inc VAT
Kona 5mm Back Entry    £239.95 inc VAT
Vortex 5mm OFZ.          £159.95 inc VAT
Vortex 5mm Back Entry £159.95 inc VAT
Storm 5mm Back Entry  £129.95 inc VAT