The new Sea Dragon lights from SeaLife
Submitted by

jon

on Fri, 08/02/2019 - 11:02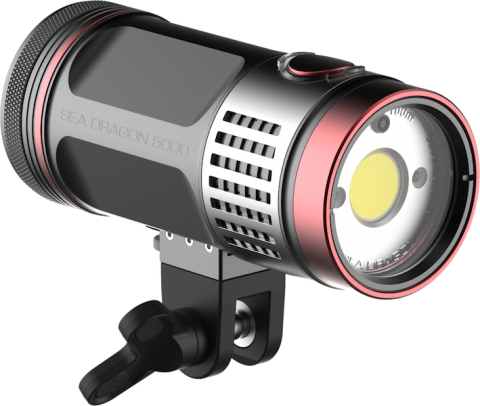 For underwater photography, a high-quality light is essentially for brilliant pictures. To ensure this, SeaLife has launched new lights with real lumens, to lighten up every dive.
Sea Dragon 5000F – Powerful and feature packed.
The Sea Dragon 5000F photo-video light delivers 5000F lumens in an even 120° wide beam and is over 20% lighter and smaller than its 4500 lumen predecessor. With a powerful 50 W Li-ion battery that allows 50 minutes of full-power illumination, there's nothing to stop you from endless movie and photo enjoyment. All features and specifications you find here: http://sealife-cameras.info/sea-dragon-lighting/sea-dragon-5000f-auto/
Sea Dragon 1300S – Ultra-Narrow, High Lumen Beam.
Featuring 1300 lumens, the compact Sea Dragon Mini 1300S dive light offers a tremendous brightness and a narrow long-range beam.  All light functions are easily accessible with one-handed operation to cycle through five light modes. The anodized aluminium body ensures maximum durability and corrosion resistance.
Click here for all details of the Sea dragon Mini 1300S: http://sealife-cameras.info/sea-dragon-lighting/sea-dragon-mini-1300s-power-kit/
Sea Dragon 1000F – A Light with Many Uses.
Featuring 1000 lumens, the compact Sea Dragon Mini 1000F imaging and dive light offers users enormous brightness and a wide 130° beam. The light can be handheld, or mounted to an arm or camera adapter with its included YS adapter mounting accessory kit.
For all Features and Specifications click here: http://sealife-cameras.info/sea-dragon-lighting/sea-dragon-mini-1000f/
About SeaLife:
SeaLife Underwater Cameras are made by Pioneer Research in Moorestown, NJ and were first introduced in 1993. In 2000, SeaLife developed the world's first digital underwater camera. In 2007, SeaLife developed the first non-housed digital underwater camera, and in 2013 SeaLife introduced the powerful Sea Dragon Lighting system and its innovative Flex-Connect tray, grip, arm, and accessory system. In 2014, SeaLife introduced the Micro HD, the world's first permanently sealed underwater camera, followed by the new Micro 2.0 in 2015 and the cutting-edge DC2000 underwater camera in 2017. SeaLife cameras, lighting and accessories are sold and serviced in 64 countries around the world. For more information visit www.SeaLife-Cameras.com
Sea Dragon 5000F: £

725.00

Sea Dragon Mini 1300S:

£130.00

Sea Dragon Mini 1000F: £

165.00
Now available at authorized SCUBAPRO dealers.