A Lockheed L-1011 TriStar joins Aqaba's Underwater Military museum
Submitted by

jon

on Wed, 08/28/2019 - 10:57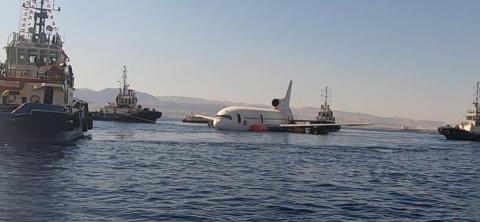 The Aqaba Special Economic Zone Authority (ASEZA) scuttles A Lockheed L-1011 TriStar in the waters of the Red Sea next to King Abdullah Reef dive site, and adjacent to Aqaba Container Terminal.
The TriStar plane is a non-Jordanian commercial that has been out of service and parked at King Hussein International Airport for several years. ASEZA recently purchased it to sink it and was transferred to the main port in preparation for that purpose to join its military aircraft companion; Hercules C130 which was sunken November last year. Today the C130 became a stop for diving enthusiasts and a home for the fish schools, corals and marine organisms.
Since then, ASEZA has started all required preparations through the national expertise and cadres in Aqaba to make this eco-tourism project happen. A national company was assigned to dismantle the aircraft, transport it to Aqaba port and re-assemble it there.
The technical teams in ASEZA uncovered more than seven proposed sites along the Jordanian coast to sink the plane and conducted scanning of these proposed sites.
It has been agreed with the concerned parties represented in the project committee on scuttling the aircraft near the old port of phosphate at a depth of (15-28) meters.
The site is completely free of coral reefs, with relatively wide and flat sandy areas, and some presence of seagrass meadows. The presence of the aircraft will allow the creation of artificial coral reefs, habitat for fish and other marine organisms and thus an attractive location for divers in that area.
ASEZA gave a great attention to the environmental effects of the scuttling and made all measures to ensure the protection and safety of the marine environment in cooperation with all concerned and relevant authorities and associations. Before the sinking all hazardous materials were removed to comply with the environmental best practices.
The TriStar was sunken at that depth range to create an artificial diving site and a new eco-tourism product added to the previously developed dive sites. Moreover, the TriStar will enhance the underwater sports status in Aqaba; SCUBA diving, freediving and snorkeling and offer the international divers and snorkelers an exhilarating experience.