The British Virgin Islands (BVI) are turning hurricane debris into scuba diving treasure!
Submitted by

jon

on Mon, 07/08/2019 - 16:57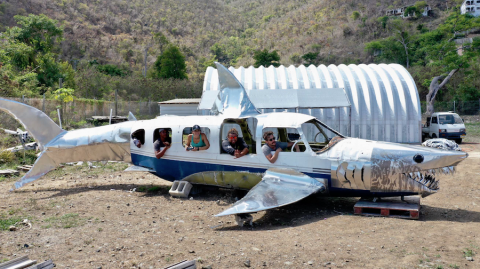 After the devastating Hurricanes Irma and Maria in 2017, the BVI's are turning hurricane destroyed vessels into very unique dive sites through the Non-Profit Organization "Beyond The Reef".
Members of this group were heavily involved in the sinking of the BVI's now famous Kodiak Queen "Art Reef" and are excited to continue with their next project that involves removing 3 derelict airplanes from the airport and turning them into half airplane/half sharks.  Although a half airplane/half shark sounds unconventional, the two have blended together seamlessly and the group hopes that the "sharkplaneo" will generate positive awareness for the necessity of sharks in our waters, while also making for a fun and interactive new dive site.  The site will feature an airplane Bull Shark, Black Tip Reef Shark and Hammerhead Shark, along with a coral archway garden made from recycled mooring lines.
Following this, they plan to turn the legendary floating bar "The Willy T", that was also destroyed in Hurricane Irma, into an underwater pirate ship playground.
In addition to creating new reefs for marine life and new dive sites for tourism, Beyond The Reef is most excited that these wreck sites will go back to benefiting local children through generating donations for children's swim lessons.
It is currently believed that only 1/10 children in the BVI are able to swim, and Beyond The Reef asks that every diver who enjoys their sites donate $5 in exchange for a souvenir sticker (one that might even get you free stuff around town), that goes directly into teaching local children to swim.  By their predictions, the donation revenue brought in just by Scuba Divers on these continuing Art Reefs should be enough to teach every child on island to swim within 10 years.
So, come visit the BVI's, dive the Art Reefs and know that the Scuba Diving community is making a massive difference.
Download the project presentation in PDF by clicking HERE