About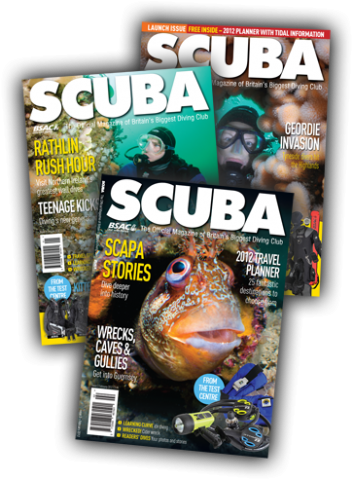 SCUBA is the official magazine of Britain's biggest diving club, the British Sub-Aqua Club. It is published monthly and is circulated to BSAC members and is available to purchase via this website. SCUBA brings you all the latest news, views and features on UK and BSAC club diving, snorkelling and all the important developments in our sport. As well as ground-breaking diving articles, it features the latest diving kit all reviewed by our dedicated in-house experts. Subscribe today by emailing us here Better yet, join BSAC and receive SCUBA as part of your great value membership package.
For more information on BSAC, please visit www.bsac.com British Sub-Aqua Club Telford's Quay, South Pier Road, Ellesmere Port, Cheshire CH65 4FL Telephone: +44 (0) 151 350 6200 info@bsac.com SCUBA magazine is published on behalf of BSAC by In2 Publishing Ltd.
We welcome your feedback and story ideas, so please contact SCUBA magazine using the form on the Contact page. You can send your feedback on the magazine or submit a story idea. If you have a photo that you would like to share with us, the form features a neat image upload function so feel free to send in your snaps.