SCUBAPRO Aladin Matrix series
Submitted by

amysell

on Mon, 03/20/2017 - 17:29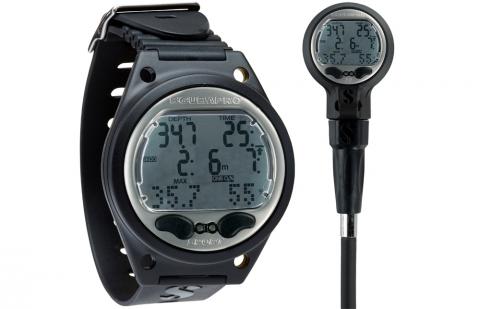 Take a look at the latest news from SCUBAPRO:
Divers looking for affordable, full-featured dive computers have two new choices. The new SCUBAPRO Aladin SPORT (Matrix) and SCUBAPRO Aladin H (Matrix) offer loads of features and dive computing power for the money.
Featuring attractive metallic silver faceplates, both computers come equipped with SCUBAPRO's time-proven Uwatec ZHL16 ADT MB algorithm and Predictive Multi-Gas. Both dive computers let you program three gas mixes from 21 to 100 percent 02, both offer Microbubble settings, and their PDIS (Profile Dependent Intermediate Stops) systems calculate safe ascents. Also, the screens on both computers feature an updated display that includes an eye-pleasing dot matrix section with an easy-to-use on-board digital compass.
Depth-rated to 394 feet (120 meters), with these new SCUBAPRO Aladin (Matrix) computers you also get audible and visual alarms, dive planners and logbooks that can be uploaded to a PC and are also Android and iOS app compatible via a new 4.0 Bluetooth interface. The battery for each model is good for 200 to 300 dives and is user replaceable.
The SCUBAPRO Aladin SPORT (Matrix) offers three operating modes - Scuba, Freedive and Gauge. It can be worn on the wrist or mounted in a two-gauge console with a SPG.
The SCUBAPRO Aladin H (Matrix) is air-integrated, making it an ultra-compact hose-attached dive computer. It factors Remaining Bottom Time (RBT) into its algorithm and offers two operating modes – Scuba and Gauge. 
The Aladin computers are available at authorised SCUBAPRO dealers.
MSRP Aladin Sport (Matrix): 230,00 GBP
MSRP Aladin H (Matrix): 285,00 GBP