PRO DIVE INTERNATIONAL IS TURNING 15!
Submitted by

jon

on Fri, 05/18/2018 - 16:26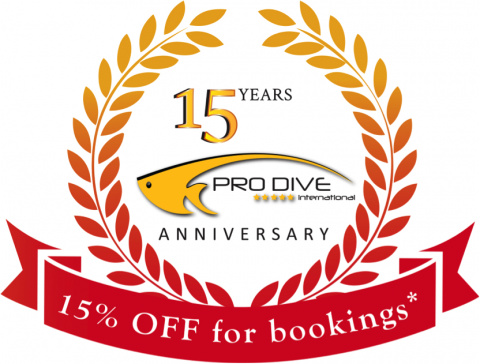 Pro Dive International is celebrating another milestone! It was exactly 15 years ago, in June 2003, opened their doors in Mexico and meanwhile ranks among the Caribbean's top dive operations and leading Career Development Centres.
Pro Dive International has been recognized with many international awards over the years. In addition to numerous "Awards of Excellence", they have achieved the esteemed "National Geographic Dive Center Award" for 9 consecutive years, and were the first dive center in Mexico, that has been honored with the "PADI Green Star Award", "Tripadvisor" certificate of excellence for 8 consecutive years (2011-2018), "PADI Certificate of Recognition for Excellence" for 9 consecutive years (2010-2018), BENEATH THE SEA certificate of recognition of excellence (2015-2018) and many more.
Pro Dive International – Mexico's "5 Star Career Development Center" in the heart of Playa del Carmen, nowadays, is considered the leading training center for diving instructors in Latin America and the Caribbean.
Today, Pro Dive International – Mexico & Dominican Republic operates 11 Dive Centers in the Caribbean, and has become a competent partner for renowned dive tour operators worldwide. The high quality standards continue to be translated by their multinational team of instructors under German management. All their loyal and repeating customers are the best evidence that their concept has proven.
Pro Dive International – Synonym for diving innovation and quality. For this reason the official company motto continues to be "Excellence through Quality".
CELEBRATION OFFER & SPECIAL CONTEST
Pro Dive International is celebrating 15th anniversary with a special 15% discount for all online bookings (on diving and snorkelling products) made during June and dive contest with a great chance to win 2 Yucatan Explorer Packages for 2!
More information on the website: www.prodiveinternational.com or inquire by email at [email protected].