Poole Harbour Boat Show
Submitted by

amysell

on Tue, 04/04/2017 - 12:39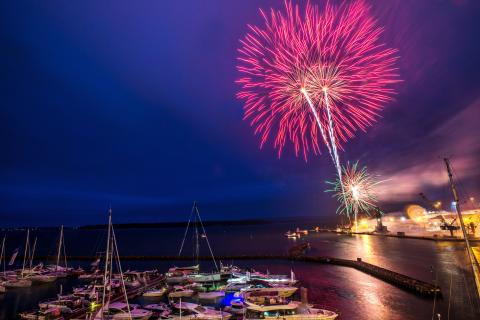 The popularity of the Poole Harbour Boat Show, in association with Sunseeker, means that this year's event will be even bigger and better, in order to provide an even wider choice of exhibits and displays, an additional display area will be located across the water on Ballast Quay.  
This new area is directly opposite Town Quay and Greenslade will provide a free passenger boat service – giving quick and easy access for visitors.
The Show, organised by Poole Harbour Commissioners (PHC), is in its third year and has proved to be one of the town's most successful events. Jim Stewart, Chief Executive of PHC explains: "Last year more than a hundred exhibitors lined the Town Quay and filled Poole Quay Boat Haven. This year we have even more exhibitors, plus some exciting new displays, and are expecting to see more than 20,000 visitors."
Admission is free and the area will be transformed into a showcase for sail and motorboats of all sizes, RIBs, chandlery products, clothing and water-sports accessories. On Friday night, there will be live music and a firework display.
Quay-side and on-water activity
Four tall ships - including Nao Victoria from Spain - will be moored alongside Town Quay. They will be open to the public, giving everyone a chance to look around these interesting ships.
Town Quay will also be the base for Marshall Bournemouth BMW – who will be showcasing the latest models of the BMW 7 Series Saloon and the innovative i8.
The on-water demonstrations are always popular and, for the first time, there will be an exhilarating display of 'flyboarding', provided by Aquatic Jetpack. Attached to a jet ski, the flyboard can send the rider up to ten metres in the air, whilst doing spins and tricks. Other on-water activities include sailing taster sessions, yacht racing, junior RIB slalom racing and RNLI demonstrations.
Summing up the show, Jim Stewart commented: "With such a wide range of exhibits, displays and attractions we can truly say that there is something for everyone at this year's Show. Whether you are young or old, an experienced sailor or complete novice - or even someone who likes to keep their feet firmly on the ground - we are confident that you will thoroughly enjoy your visit."
Not to be missed!
The Sunseeker Sessions stage – live music from 12 different acts
Royal Navy 'village' on Ballast Quay 
Daily waterborne demonstrations
Four tall ships – Pelican, Queen Galadriel, Royalist and Nao Victoria
Royal Marines 'Beating the Retreat'
Friday night fireworks