Your drysuit diving journey starts with Happy Diver
Submitted by

jon

on Thu, 08/16/2018 - 11:19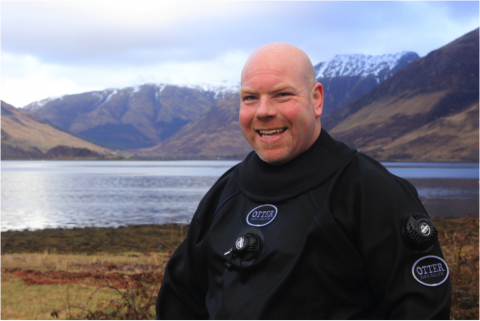 What is Happy Diver UK?
The idea behind Happy Diver is simple – to provide the best possible rental drysuit diving experience. We do this by providing excellent customer care and high quality equipment. Our purpose-built stock of Otter Cordura-D drysuits were designed in tandem with Otter to provide a comfortable, flexible fit. Our use of Fourth Element and Otter undersuits ensures our divers stay warm in the Scottish diving climate. Our unique customer care provides expert instruction on donning and removal covering the nuances of the needs of the first-time drysuit diver. Experienced instructors stand open-mouthed when they see the attention to detail that Guy and Kate put into dressing their divers. The service that absolutely sets Happy Diver UK apart is their hospitality – freshly cooked hot food onsite to provide the internal warmth.
What's the Happy Diver Story?
The concept of Happy Diver was first discussed over a pint of beer and glass of wine in a Scottish west coast pub one February. Guy and Katie had just finished helping some university students with their open water drysuit training. This was February in Scotland. The water temperature was 5◦C, but the weather was bright with only the odd snow flurry. You certainly could not have marked the students down for their keenness and enthusiasm. They had a typical selection of rental suits, ones off eBay and others borrowed from generous club members.  As undersuits, they wore a variety of street-wear – hoodies and leggings. They had been asked to wear warm clothing that that was what they had. Once the suits were on, the issues started, all of which are recognised by seasoned drysuit diving instructors – poorly fitting suits, loose seals, small feet in big boots, and poor maintenance. Katie spent an hour waxing zips that day.
The intrepid divers entered the water with their instructors and resolutely concentrated on their instructors' signals as their lesson covered the basics of drysuit buoyancy (that's a different story). All the while their heads were struggling to master the basics of staying warm as water seeped, or flooded, into their ill-fitting suits, their street-wear under garments soaking up the water and sucking the heat from their skin. They emerged soaking, shivering and were peeled out of their drysuits.  Katie, a trained staff nurse, stripped them from their sodden clothing and dug out dryer attire whilst sharing her hot soup and flask tea while Guy led off his wave of keen students for their dowsing. Guy was used to these scenes from his drysuit instructor experience, but it was an eye-opener for Katie. So in the pub, Katie and Guy only had one topic of discussion,
"There's got to be something better than this."
Happy Diver UK is now in its second year of operation with a growing reputation for excellent service.
Why choose Happy Diver?
For Happy Diver UK, the people come first. They care about your dive. Guy brings over 15-years of drysuit instructing experience whilst staff-nurse Katie, who is a recently qualified Sport Diver, brings compassion and awareness of the trials of the new drysuit diver.
For you, their quality drysuit packages are designed to give you the best possible drysuit experience in which to progress your skills. Telescopic bodies ensure a good fit, Kubi and Sitech interchangeable seals ensure a good fit with reduced skin irritation. The rock boots ensure a good fitting foot no-matter your body shape.  The specialist thermal two-piece undersuits provide a good fit and excellent insulation to keep you warm and concentrated on your skills and scenery. You enjoy your dining and progress faster.
For your club, you can encourage you divers to take a rental suit assured that they will have a good experience. Your divers progress faster allowing you to grow your club or get your divers to instructor capable grades sooner.
What's new for the 2018 training season?
As a result of their drysuit snorkelling events in the summer, Happy Diver UK now have a full set of masks and fins for all our suits. So you really can try before you buy into drysuit diving and start your drysuit diving journey with Happy Diver UK.