Dive Worldwide releases its new summer brochure
Submitted by

jon

on Wed, 05/16/2018 - 12:01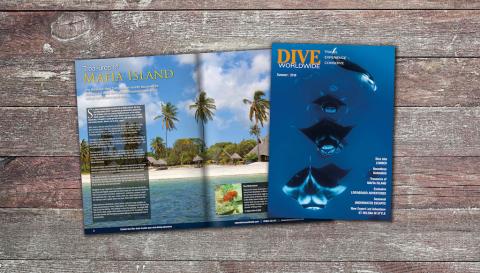 Dive Worldwide is thrilled to release its new summer brochure packed with suggestions for your next diving adventure.
This issue features client feedback from Mafia Island, iconic liveaboard adventures and ideas for 'Seasonal Underwater Escapes', giving you the ultimate guide on where to go throughout the year. Zoologist and conservationist Danny Copeland leads a NEW expert-led adventure to St Helena: a much sought-after destination, famed for more than its annual whale shark aggregation.
The Dive Worldwide expert team have been travelling the oceans to bring you tales of the weird and wonderful. Lewis Copper ventured up close and personal with sharks in the Bahamas and Sarah Wight found paradise diving from a remote island resort in the Seychelles. Manager Phil North recalls a memorable night dive in Lembeh Strait uncovering some spell-binding creatures.
Their regular 'What's Bubbling' feature includes the Galapagos Islands and 'Critters and Kings', a fantastic NEW trip idea to get the best possible experience of diving Indonesia.
Have a look at the online version HERE or to order your printed copy.