New photo pro at Scuba Travel
Submitted by

amysell

on Tue, 03/21/2017 - 11:16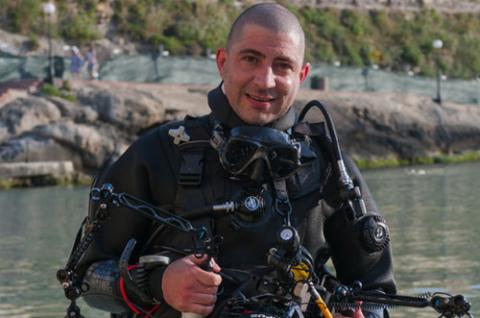 Introducing our new photo pro Mario from Fish in Focus
Mario has been part of the Scuba Travel family for many many years, originally as a dive guide in the Red Sea for the award winning Tornado Marine Fleet. Then working along side Duxy at Cameras Underwater and Ocean Leisure in London. More recently he has been running his own successful business Fish in Focus teaching underwater photography on a 1:1 basis. Mario is well known for his knowledge and patience. For those divers newer to photography and needing advise on just where to start he's a god send!
Mario will be running our popular Winter Warmer trips, Red Sea Relaxed trips along with jumping onboard some of our stand trips offering 1:1 photo sessions.
Dates include:
7 nights full board with 18-20 fully guided dives and return flights to Marsa Alam
This trip includes an optional photo workshop with Mario Vitalini: small group of only 6 people with guaranteed 1:1 sessions for only £75 per person. Sublime reef diving in the southern Red Sea with the most experienced team. Stretching south from Marsa Alam to within a breath of the Sudanese border, get face to face with the remarkable diversity that makes the deep south so rich and rewarding for divers. Walls, shallow caves, softly draped pinnacles are all on the menu alongside pelagic encounters. Marvel at the beauty and splendour on one of the most special  southern Red Sea liveaboard holidays.
Climb aboard Hurricane and find out why she has won the prestigious "Liveaboard of the Year Award", popular with guests for her spacious an comfortable layout your will not be disappointed. The steel hull and low dive platform make Hurricane a stable ride in even the bumpiest of weather and entry and exits are easy.
7 nights full board with up to 21 fully guided dives and return flights to Hurghada.
This is a great holiday for anyone interested in underwater photography (or if you are just not feeling confident about using your camera!). 
Mario will cover the basic principles to get you up and running in no time, as well as more advanced techniques for experienced shooters. We pick this time in June as there will be no shortage of great subject matter to shoot, from impressive wrecks to huge schools of fish.
Mistral has been lovingly laid out to optimise space on board with super speedy engines and a steel hull to make sailing supremely comfortable. She boasts a host of extra facilities including a dedicated camera room on the dive decks,  to make your week all the more enjoyable.
1 night in Manila followed by 9 nights full board at Atlantis Dumagete, up to 5 boat dives per day are included and free Nitrox.
The lovely Martyn will be running his first workshop with Scuba Travel to a destination that he loves passionately - Atlantis Dumaguete in the Philippines. Martyn is a friendly easy going chap, who is very prepared to let you in on all the secrets of getting stunning photographs! 
This holiday will enable guests to brush up on and learn new macro skills, including various lighting techniques, snooting and super macro, as well as hopefully compile a collection of turtle images at Apo. With hands on instruction through group image reviews and evening presentations as well as underwater instruction for those needing it everyone will have the opportunity to return with a great portfolio.
Atlantis Dumagete is a premier dive resort with a secluded beach front location opposite Apo Island, the resort boasts a superb restuarant open air bar and spa for relaxing after a busy day exploring the world class dive sitesin the area. Muck diving is prevelant, but also expect to see pristine corals and vast schools of fish.
Includes 7 nights full board, full guided dives and return flights to Hurghada
Spend a week on a luxury boat exploring the reefs and wrecks of the northern red sea at your own pace... and in your own way! There is yoga in the morning which is suitable for all levels including complete beginners, yoga nidra (sleeping yoga) at night under the stars, and as much freediving and scuba as you like the rest of the time! For Scuba divers there's also the chance to dip your toe into the world of freediving with a FREE Try Freediving Course worth £75! For freedivers you can freedive recreationally or take a course. There's also talks and presentations every evening on everything from dolphins to sinus massage.
Cyclone is a Red Sea favourite who has been upgraded over the years and easily accomodates 20 divers. The spcaious dive deck allowa everyone space to kit up and their is plenty of choice for where to relax between dives including the extensive sun deck with jacuzzi or the upstairs saloon with bar and plasma screen.
The Northern Red Sea fish count is huge, particularly in the areas of Ras Mohammed and Tiran, with large schools of fish from the Batfish and Snappers at Shark Reef and clouds of Anthias and smaller schooling fish up in Tiran, but you will see more abundance of marine life everywhere with wrecks like the Thistlegorm covered in swarms of Fusiliers being chased by Trevallies with languid Batfish hanging out in the blue.
Includes 10 nights full board (inc alcohol with your evening meal), average of 4 fully guided tender dives per day, return flights to Male and a one way domestic flight.
Carpe Vita goes above and beyond the usual Maldives liveaboard. At a generous 38m in length and a whopping 10m breadth, she's as spacious as she is well laid out. Carpe Vita has plenty of space for everyone. See for yourself the attention to detail that makes Carpe Vita a well loved liveaboard with divers. As all of the diving takes place on the dedicated dive dhoni (tender boat), the space on board Carpe Vita is incredible. On the main deck you will find a large lounge area. Help yourself to tea, coffee, soft drinks and dispensed water throughout the day. There is a wide screen TV and audio system with an area set aside for charging camera batteries. All meals are served al fresco on board. Tuck into the fine food prepared by the on board chef. The fly deck is expansive, with a covered area, jacuzzi as well as a sun loungers. Or relax while you watch for dolphins at the fore deck sitting area.
The Maldives Seasonal Sensations itinerary wends its way between Male and Baa atolls, cherry picking the highlight dive sites for that season. Timing is everything - dive the east side of the atolls, when sites that are at their seasonal hottest for sharks, manta and gorgeous coral reefs.  Though the visibility is often decreased, the increased plankton means it can be the best time and place in the Maldives to see manta rays and whalesharks.
Scuba Travel is an Award winning Tour Operator passionate about your diving. We are a small team of divers, building holidays for our fellow divers. We don't sell holidays we wouldn't want to do ourselves and work hard to keep the quality of our trips as high as possible, at prices that are genuinely affordable. For further information, or to book your next adventure email us on
[email protected]
or call 0800 072 8221 for a chat.