New Madagascar Whale Shark research – Islands, Humpback Whales & Lemurs experience
Submitted by

amysell

on Thu, 03/16/2017 - 17:30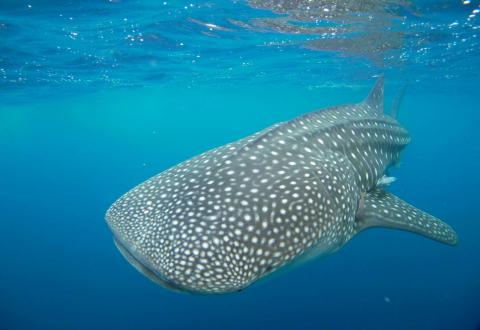 Diving, wildlife & wilderness travel operator Aqua-Firma has just launched a new trip to Madagascar, providing the opportunity to join a team of marine biologists and photographers as they research a population of endangered Whale Sharks against a backdrop of breaching humpback whales, stunning beaches and forested islands.
Aqua-Firma has been funding whale shark research around the world since 2006. Current sites include Caribbean Mexico and Mafia Island offTanzania. In 2016, Aqua-Firma put seed money into a new study of whale sharks in northern Madagascar where these, the largest fish in the ocean reaching up to 20 metres, appear to aggregate each October and November primarily. So far 130 individuals have been identified here.
Whilst whale shark research will be a core focus, these ocean giants are ticket to alot more besides. Schools of a hundred or more bonito tuna often accompany whale sharks in the study area, racing at great speed through the water and frequently leaping out of it. The water can look like it's boiling with tuna as they chase smaller fish. At the same time, flocks of seabirds dive into the water around the team as they snorkel with whale sharks.
Humpback whales share these waters in October, here to give birth and to mate. Males often breach high out of the water, landing with a crash as they try to prove their health and strength to potential suitors. The very rare Omura's whale is another possible sighting, as are dolphins, turtles grazing on seagrass beds, schools of giant mobula rays and beautiful leopard sharks which appear in areas of coral reef identified by the team.
Above water bycatch comes in the form of forests occupied by lemurs, chameleons, lizards and so much more.
Whilst guests will be in Madagascar to enjoy a stunning area of islands and marine life, they can also learn more than they ever imagined in the company of leading whale shark researchers and photographers; entertaining evening talks; and optional free photography workshops. Whilst encounters with whale sharks is best by snorkel, scuba diving is available within the programme. Aqua-Firma can also tailor additional days of diving in the same northern area, or to the long barrier reef that runs along the western side of the country. The company can also arrange wildlife and adventure travel throughout out the country, with a special group trip planned immediately before the whale shark research trip:
Aqua-Firma's Lemurs, Golden Frogs & a New Rainforest Reserve - a Pioneering Conservation Adventure will visit some of Madagascar's unique forest reserves; but of prime interest will be a newly created 76,000 acre reserve Aqua-Firma helped to fund. This is a critical habitat for four species of lemur including Madagascar's largest, the Indri. It is also important habitat for chameleons, endemic birds and the Golden Mantella Frog - thought in 2005 to be extinct, but rediscovered in the reserve a few years ago. This experience is an opportunity to join a team of rainforest research and conservation experts in a reserve that so far is completely off the tourist map.
"Once in a while you feel that you have opened a crack in a door to a whole new world of Nature," said Ralph Pannell, Director of Aqua-Firma and leader of this adventure. "This new reserve we are proud to have helped fund, is truly one of those places. With its stunning forest-covered hills, winding river valleys, unique wildlife and far reaching calls of Indri lemurs, I believe that this will become one of the most popular places to visit in Madagascar. For now, we are here on our own."
The new reserve called Mangabe was established by a Madagascan NGO called Voakajy with funding raised primarily through the Rainforest Trust. Director of Voakajy, Julie Razafimanahak, will join the group, as will members of her team and communities who live alongside forest within the reserve.
"Whilst we will be seeking to enjoy as much wildlife and scenery as possible," explained Ralph, "we are here as first clients for local people whose aim is to develop a community owned ecolodge which will provide sustainable economic foundations to protect the Mangabe Reserve long into the future."
At this early stage, Aqua-Firma and Voakajy are helping the community upgrade a tented research camp to provide accommodation. The team will also be helping identify the ideal location for a permanent lodge, explore a network of research trails through the forest and pioneer its exploration by river in dugout canoes known locally as pirogues.
Lemurs, Golden Frogs & a New Rainforest Reserve - a Pioneering Conservation Adventure will run 3rd – 10th October, 2017 price £1,690 per person sharing (price excludes flights).
Madagascar Whale Shark Research – Islands, Humpback Whales & Lemurs will run immediately afterwards 10th – 17th October 2017 price from £1,790 per person sharing (flights extra).