Latest offers from Scuba Travel
Submitted by

jack

on Fri, 01/17/2020 - 16:56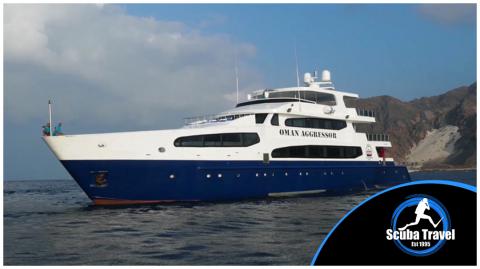 Destination: Egypt

Boat: Whirlwind

Date: February 2nd 2020

Price: £1245

Back to Sharm. On the 2nd of February from Whirlwind diving the best Wrecks and Reefs of the Northern Red Sea for only £1245

Departing from Sharm El Sheikh allow you to dive some of the most beautiful areas in the northern Red Sea regardless of the weather. Enjoy the colourful reefs of Tiran, always buzzing with life, the incredible walls of Ras Muhamed and the majestic Thistlegorm. You will spend 7 nights on board on a full board basis (twin-share cabin). Included in your package are up to 22 dives over the week, 12lt tank, air fills and weights. Please prebook nitrox and 15lt tanks before travel. Flights are direct with EnterAir from Gatwick (Indirect Manchester are available at a supplement) and transfers are also included. At the end of the week, you will have day use of a hotel and buffet lunch while you wait for your flight home.


Click here email us and receive more information about this amazing liveaboard. Dive the reefs of Tiran, Ras Mohammed, and the incredible Thistlegorm. 


Click here to book this great trip.
* prices are subject to change according to availability at the time of booking
Resort: Camel

Date: Winter Specials

Price: from £745
Camel Dive Club – Sharm el-Sheikh – from £745

Including flights!

Camel Dive Club and hotel have been at the very heart of Naama Bay in Sharm el-Sheikh for over 30 years and their hard work has been recognised repeatedly by winning a host of Trip Advisor and Divers awards over the years. The facilities for divers and non-divers have evolved greatly, but Camel remains one of the friendliest hotels with a reputation for the quality of recreational and technical training.

Ever popular with families and solo divers alike, experience the superior service for your next diving holiday in Egypt.
Direct flight options are available with Easyjet and Thomson via a number of regional airports. Ask your travel consultant for a quote


Click here email us and receive more information about this great resort.


Click here for more information about Camel Dive Clube Winter Specials.
Destination: Maldives

Date: Winter Specials

Price: from£995
Maldives Winter Specials

Maldives liveaboard holidays have never been more affordable than with Scuba Travel's handpicked selection of boats for all budgets, with year-round departures. From open plan traditional style boats to modern, luxurious liveaboards, there's a trip for you. We've got great options for individuals or groups looking for their next adventure. Or if you prefer elegant living with world-class diving, then step on board our high-end liveaboard holidays. Non divers and snorkellers are always welcome too!


Ask an Expert:


Whilst we all love the Maldives no one does it more than our lovely Melissa. She has also been on or visited all the liveaboards we offer and so many resorts that we lost count. If you are planning a liveaboard, resort or a combination of the two, she is the expert to speak to. Just call 01483-411590, or email dive@scubatravel.com and ask for Melissa and she will help you organise your perfect Maldivian getaway.

Her favourite offers at the moment:

10th May – Serenity – Best of the Maldives £1225

6th Sep – Carpe Vita – Best of the Maldives – £1175

11th Oct – Virgo – Best of the Maldives £1045
Click here to see all our Maldivian offers
Destination: Bali, Indonesia

Resort: Scuba Seraya

Date: Winter Specials

Price: from £795


Scuba Seraya WinterSpecials. From £795 plus flights!!


Scuba diving in Bali is an experience you will never forget! Bali is sometimes overlooked in Indonesia, but diving here is a must for anyone that loves opulent reef diving. And Scuba Seraya has built a reputation as the area's premier dive centre. Stay here and you dive world-class sites such as the Liberty Wreck (regularly in the top 10 wreck dives of the world!) as well as critters galore.

Scuba Seraya sits next to world-class dive sites, and as such, this really is a diver's resort. But you do not have to forgo your creature comforts! There are a freshwater pool and beachside massage service for those chill out days. The beach is for the exclusive use of guests. The restaurant is right by the sea and serves freshly prepared Indonesian and Western meals. The whole atmosphere at Scuba Seraya is understated elegance. Relax and forget about the world as you dive from your very own corner in paradise.


Click here email us and receive more information about Scuba Seraya in Bali. otherwise, call us on 01483411590 and ask for Mario, our Indonesia specialist.
Click here to see all our scuba Seraya offers.


* prices are subject to change according to availability at the time of booking


Destination: Malapascua, Philippines

Resort: Exotic Island Dive Resort

Date: Winter Specials

Price: from £695
Everybody loves Malapascua


Malapascua Island has an impressive reputation for such a small location. The diving in Malapascua is most famous for its thresher sharks, but it is also one of our staff favourites. Looking for laid back long haul diving at affordable prices? Then look no further! The experienced dive team have an impressive reputation for finding the sharks. Discover beautiful reef diving on the local sites or take a day trip to one of the picture-perfect islands of Gato or Calanggaman. Step ashore and forget your everyday stresses and strains as the friendly staff welcome you to their slice of paradise. !

Ask an Expert: Many of us love Malapascua, but Mario has already been there twice and is planning to go back again for a third time later in 2020. If you're looking at going to Malapascua and have questions or want help with organizing transfers, flights, hotels or extensions. Mario is the guy to talk to.

Just call 01483-411590, or email dive@scubatravel.com and ask for Mario.


Click here to find out more about Malapascua Winter Specials.


Destination: Oman

Liveaboard: Oman Aggressor

Date: Winter Specials

Price: from £1395


Oman Aggressor Winter Specials

Oman has featured in the press a lot the last days and a lot of that has focused on the positive developments in the country during the last 40 years. and there's no denying it, Oman is a hot, upcoming destination!

For Divers, there are 2 thrilling island chains to discover. The Daymaniyat Islands are the jewels for diving in the Gulf of Oman. This string of small, rocky islands north of Muscat is encircled with awesome coral reefs down to 30 m and an abundance of pelagics, rays and schooling fish. Want humpbacks? Then head to the Hallaniyat Islands. In the spring months, the resident humpback whales can be encountered, along with giant groupers, moray eels, honeycomb moray eels, dragon morays and thousands of reef fishes. Coupled with the world-famous onboard Aggressor service, and much-loved food and drinks package, and you will discover why we are so excited about this new destination.


Oman Aggressor sleeps only 22 divers across a whopping 45m liveaboard. The saloon area is not just the hub of life when not diving or snorkelling. This is a modern, airy communal space, where the all-important meals are served. The menu aboard is varied and plentiful, with a variety of Omani feasts and local cuisine. There is a complete photo video centre for anyone with a camera, a large sun deck with shading, a jacuzzi, chaise lounges and deck chairs and bar. The dive deck is on the main deck level.  


These trips do not include any international flights to Salalah SLL orMuscat MCT. We are able to add flights with a wide range of airlines, including regional departures. Please ask your consultant for a competitive quote for any flight option.


Click here email us and receive more information information about Oman Aggressor


Click here to book this holiday or call us on 01483411590


* prices are subject to change according to availability at the time of booking