It's what's underneath that counts
Submitted by

amysell

on Tue, 02/21/2017 - 15:35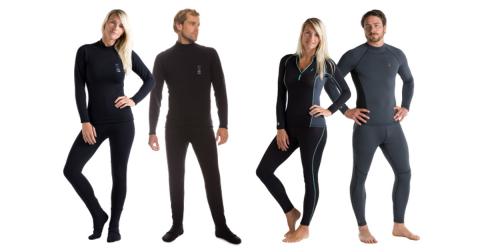 Here's the latest press release from Fourth Element:
A warm diver is a happy diver. Whether you are diving a wreck, venturing under ice, or exploring caves, your undersuit base layer will make all the difference.
The Ultimate Base Layer... We introduced the Xerotherm in 2001 and at the time it was the only purpose designed base layer for drysuit diving.
Still arguably the warmest base layer on the market (so warm that some people use it as an undergarment on its own), the xerotherm extends any diver's season without adding bulk or buoyancy. Ultra fast wicking and lightweight, it should form part of every drysuit diver's kitbag.
J2 Base Layer


Probably the Deepest Undersuit in the World... Designed for extended use under a drysuit, the unique fabric of our J2 base layer gives outstanding wicking to maintain a dry zone next to your skin, whilst the anti-microbial silver ion technology ensures excellent skin comfort even with long, repetitive wear. 
This means that you can stay fresh, dry and warm, even in extreme conditions – something that was critical on the J2 expedition, where the team spent over 1000 hours at over 1km deep under the earth...
"The performance was unbelievable"
Phil Short – lead diver on the 2013 J2 expedition
"It's really a wonderful thing when a promising article of gear (or clothing) lives up to and exceeds its expectations."
Bill Stone – expedition leader