Euro-Divers fundraising success at Boot, Düsseldorf
Submitted by

amysell

on Tue, 01/30/2018 - 16:28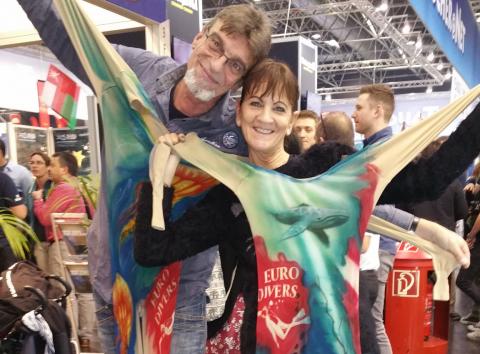 Euro-Divers raffled off two bodysuits during this year's Boot show in Düsseldorf, which had been painted by a famous tattoo and body painter from Germany, Michael Huth.
Any visitors who wanted to be part of the raffle were asked to leave a picture of themselves, their names and a donation for the Bluemoon Animal Center in Hurghada. The Blue Animal Centre cares for animals that have lost their mother, have been abandoned by their owners or are in need of help for other reasons.
The winners were drawn on Sunday 28 January and a total of €484,73 was raised for the Bluemoon Animal Center. We thank all the participants and are very happy that all of our guests and friends have such a great and good heart for animals!