The DC2000 from SeaLife
Submitted by

amysell

on Thu, 04/20/2017 - 14:30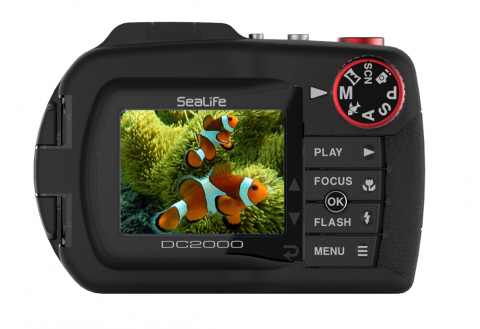 Take a look at the latest press release from SCUBAPRO:


Enjoy full creative freedom, with breath taking images and incredible ease of use. SeaLife introduces their most sophisticated underwater camera yet, the SeaLife DC2000. With a large SONY® 1" type back-illuminated 20 megapixel image sensor and RAW formatting capabilities, the DC2000 will let your underwater inspirations guide you to stunning results.
The best of both worlds: With DSLR-like imaging results you'll want to make the DC2000's water- and shockproof inner camera your go-to land camera with the ability create rich landscapes and beautiful close-ups and portraits.
KEY FEATURES
Big image sensor
Sensor is about 4 times larger than most other compact cameras using 1/2.3" image sensors. Large pixels (2.4 μm) results in excellent low light performance.
Waterproof & shockproof inner camera
Ruggedized inner camera is designed to withstand 1.5m drops without being inside its underwater housing and is waterproof.
Easy to use
Quick Set Mode dial with big symbols for changing the modes plus big piano keys. Shortcut-Function to reach your favourite menu-settings very fast.
Depth-of-field-effect
With the big sensor and a large shutter you can create impressive depth-of-field-effects – putting the object you want in the limelight.
RAW-Format
Uncompressed image files allow for virtually unlimited photo editing options. A JPEG is also stored, that you can easily share with your friends.
WiFi
Wireless preview, download and sharing of your captures with a smartphone or tablet.
MORE FACTS
Ultra-fast shutter response of 0.1 seconds – virtually no shutter lag
4 Underwater Shooting Modes for sharp, colourful underwater pictures under any conditions
3 built-in underwater digital colour correction filters for the most common UW conditions, including shallow water (snorkelling), deep water (diving) or "green" water (algae bloom)
25 Land Scene modes automatically adjust camera settings for specific shooting environments
Intelligent Auto mode automatically selects the optimal land scene mode for effortless shooting
Continuous Burst Shooting – shoots high resolution 20MP pictures up to 10 frames per second
Manual White Balance control to customise UW colour correction to your specific depth and water conditions
Manual shutter and aperture for complete control over image exposure; from F1.8 to F11 in 0.3 stop increments
Auto focus from 4"(10cm) to infinity
Micro SD, SDHC SDXC and UHS-1 memory card compatible
Optical Image Stabilization (OIS) – CCD shift technology reduces camera shake caused by hand movement
Short-cut key for fast and easy access to favourite menu setting
Expandable with Sea Dragon Flash(es), Photo-Video Lights and SeaLife SL975 Fisheye lens
Rubber armoured, shock-resistant for rough handling and tough environments
Rugged 200ft/60m Underwater Housing
Combine your camera with a powerful Sea Dragon LED light or strobe to boost the vibrant colours in your images and video.
Paired with the DC2000, the Sea Dragon Flash produces rich, deep colours and reduces backscatter. Combined with the powerful Sea Dragon 2500 Light and the DC2000 underwater camera, the DC2000 Pro Light will capture vibrant underwater colours that are typically muted and colourless. The sun-like Sea Dragon 2500 will make stills and videos extraordinary.
Perfect for shooting colourful underwater stills and HD video, the DC2000 Pro Duo comes fully equipped with the DC2000 underwater camera, Sea Dragon 2300 Auto light, and Sea Dragon Flash. The versatile set gives the diver the ability to use the light and strobe simultaneously. The Sea Dragon 2300 Auto Light features Auto Detect Mode that automatically turns off the light for two seconds when detecting an external flash.
All SeaLife products are available at authorised SCUBAPRO dealers.
MSRP DC2000: £669
MSRP DC2000 Pro Duo Set: £1.299
MSRP DC2000 Pro 2500 Set: £1.029
MSRP DC2000 Pro Flash Set: £955
MSRP Fisheye: £255