Costa Rica summer savings
Submitted by

amysell

on Tue, 04/04/2017 - 12:23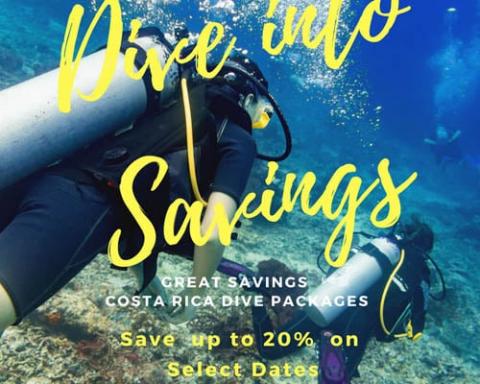 Take a look at the latest offers from Bill Beard's Costa Rica:
Super Summer Travel Deals
Let's Go Diving! Super Savings Beach Promo Specials in Costa Rica Three Gorgeous Beach Resorts on Northwest Pacific Ocean.
Wonderful opportunity for budget minded families wishing a Costa Rica beach vacation directly on the Northwest Pacific Ocean at Playa Hermosa. Bosque del Mar & Playa Hermosa Beach Costa RicaHere you can add on three dive days in the Gulf Of Papagayo for $255 per diver. All suite boutique hotel occupying unique beach front property in Playa Hermosa, Guanacaste, Costa Rica. This rustic, charming "Hemingway Type" hotel offers: bar – restaurant, swimming pool, Jacuzzi, lush tropical gardens. 32 suites, 20 jr. suites . 6 Garden View and 6 Ocean View with a jacuzzi all with 2 queen size beds and a sitting area. Bill Beard's operates daily scuba diving and adventiure tours from this beach resort. Location: Located in Playa Hermosa, only 20 minutes away from Liberia International Airport ( LIR) – or 4 hours from San José, (SJO) the Bosque Del Mar beach front hotel is the perfect place to experience the wonders of a dream beach holiday in sunny Guanacaste.
Pay for 7 nights and get two nights free with Bill Beard's. LEARN MORE
Take advantage of this low season promo vacation package at beautiful Flamingo Beach with the beach just steps from the ocean and a view of the world famous Catalina Islands where you can add on three dive days for $255 per diver.  Enjoy the beautiful white pinkish sand beach at Flamingo on the North West Pacific Ocean of Costa Rica in Guanacaste Province. Relaxing and casual beach vibe and authentic hospitality truly inspire the spirit of Pura Vida. Relax in beautiful rooms and suites overlooking lovely gardens and the oversized pool with swim up bar and a children's area. Indulge your senses at OnZen Spa, lounge on the pristine beach. Bill Beard's operates daily scuba diving, catamaran sailing sunset cruises, soft, medium and extreme adventure tours from the resort. You may add any of these tours to your vacation package.
Bill Beard's is privileged to offer new accommodations just minutes from spectacular scuba diving and adventure activities. Perfect location. Condos consists of eight 3 bedroom, 3 bathroom units, each sleep 6-8 comfortably. There are two bedrooms, two baths, living room and kitchen upstairs. A large kitchen, living room and another bedroom and bath downstairs. Each has wifi, a/c, king size beds & flat screen televisions. Located just 10 minutes from the fishing village of Playa del Coco with shopping & nightlife. Bill Beard's operates scuba diving & adventure tours daily from the condos. The property is spectacular with the best view of The Gulf of Papagayo and gorgeous Pacific Ocean Sunsets. It is located just off the beach in Ocotal. Add three dive days for $255 per diver
Sublimely beautiful Costa Rica has something for everyone. The treats range from exciting adventure to leisurely relaxation, and everything in between that we can add to your diving package. Furthermore, tourists can sample the laid-back national lifestyle that ticos (the name the Costa Ricans call themselves) refer to as 'Pura Vida' – 'pure life': no stress, no hassle. All this, combined with unsurpassed natural beauty and a developed and accommodating tourist industry, makes Costa Rica a wonderful place to visit and vacation.
Our agents can set up the all inclusive or al a carte vacation package and itinerary you want throughout the country. There is no charge for our service and we'll save you money and lots of time and you'll get the vacation you want.