blue o two venture to the Solomon Islands and Papua New Guinea
Submitted by

amysell

on Tue, 09/19/2017 - 12:40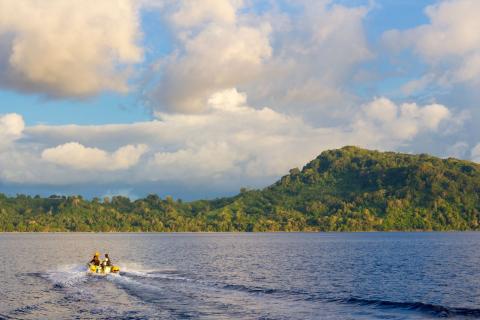 Take a look at the latest press release from blue o two:
blue o two are delighted to announce, alongside their partners Master Liveaboards, two fantastic new diving destinations; the Solomon Islands and Papua New Guinea.
Located on the western fringe of the Pacific, the Solomon Islands comprise of 992 islands that remain relatively untouched by the influences of the modern world. Rich in culture, this pristine paradise is one of the Pacific's best kept secrets. Fishing was banned here over 20 years ago, allowing the marine life to flourish. Neighbouring Papua New Guinea, situated just 160km north of Australia, is part of a great arc of mountains stretching from Asia, through Indonesia and into the South Pacific. This fascinating land boasts more than 600 islands with magnificent scenery and beautiful coral atolls. 
Both the Solomon Islands and Papua New Guinea have pristine dive sites that are unspoiled and undiscovered. The remote location means there have been very few divers which puts less pressure on the reef and fish. Divers can expect warm water temperatures and good visibility to see caverns, reefs, large sea fans, soft corals and lots of macro life including a huge diversity of nudibranchs, the famous pygmy seahorse, ghost pipefish, mandarin fish and more. Many of the islands are surrounded by deep walls which allows divers to interact with schools of impressive pelagics. One of the main attractions of the Solomon Islands is the Iron Bottom Sound. After WW2, the water in between the Florida Islands and Guadalcanal was renamed as Iron Bottom Sound due to the 200 ships, 690 air crafts and countless landing barges that sunk there during those many months of battle. These wrecks are now teeming with life and are just waiting to be explored.
Built and designed with diving in mind, M/V Solomons PNG Master offers some of the best liveaboard accommodation in the Pacific. A maximum of 20 guests will be welcomed on board M/V Solomons PNG Master, with a range of cabin types available. All upper deck cabins have en-suite toilets and showers and all rooms are fully air-conditioned. M/V Solomons PNG Master boasts a large dining area and lounge, with ample space to chill out and enjoy liveaboard life with your diving buddies. Catering for both rebreather and technical divers, she is fully equipped with a nitrox membrane system, and an experienced dive team.
Divers have a variety of itineraries available to choose, ranging from 7 or 10 night trips. There are 3 varied itineraries available in both locations with a handful of transitional trips throughout the year, allowing divers to explore both the Solomon Islands and Papua New Guinea in one truly unforgettable experience. 
The full schedule of available itineraries will be announced on the blue o two website on Thursday 21st September.
For further details on diving in Solomon Islands and Papua New Guinea please contact our expert travel team on +44 (0) 1752 480 808 or [email protected], or visit our website at www.blueotwo.com