Blue O Two Flash Sale - 40% OFF 2019 departures
Submitted by

jon

on Fri, 06/07/2019 - 12:16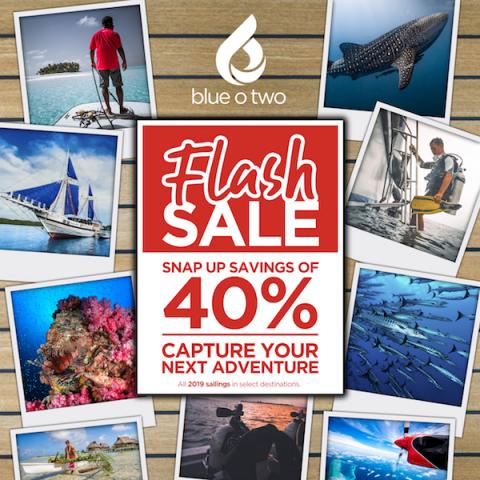 Blue O Two are having their biggest sale of the year, with a massive 40% off all 2019 sailings in select destinations*.
This incredible sale starts at 9am GMT Monday 10th June 2019 but act quick! The sale will only last 3 days, ending at 5pm on Wednesday 12th June 2019.
Savings of 40% are available across 10 of our worldwide destinations including the Maldives, Thailand, Palau, Philippines, Indonesia, Truk Lagoon, Bikini Atoll, French Polynesia and the Solomon Islands & Papua New Guinea.
One of the highlights of the sale are the spectacular Solomon Islands & Papua New Guinea. Located on the Western fringe of the Pacific, the Solomon Islands comprise of 992 islands that remain relatively untouched by the influences of the modern world. Dive colourful, pristine coral reefs teeming with marine species, including a variety of sharks, abundant macro life, dolphins and turtles. Or, indulge your curiosity and investigate the WWII wrecks left after the battle of Guadalcanal.
Alternatively, dive into the clear French Polynesian waters and explore the coral atolls. With its towering green peaks and vivid turquoise lagoons, French Polynesia is an idyllic location to kick back, relax and enjoy the warm hospitality on board M/V French Polynesia Master. Tick this ultimate diving hotspot off your bucket list this year.
Visit www.blueotwo.com/specials to kick start your next unforgettable dive adventure.
All sale prices will be live on the Blue O Two website by 9am GMT on Monday 10th June 2019. The offices will be open 24/7 for the duration of the Flash Sale so there's no excuse to miss out on these epic deals.
Terms and Conditions
*Red Sea, Galapagos, The Bahamas and Myanmar trips are NOT included in the sale. Limited sailings aboard The Junk (Thailand) included. Deals can be removed from the sale at any time without notice. Discount is applicable to the boat only space, flights are not included in the 40% discounted rate. The balance of the booking is due IN FULL at the time of booking and no refunds will be available for cancellations. Bookings made during the sale cannot be combined with any other promotional deals, Loyalty Club or BSAC discounts or kickback scheme. Standard free space policies still apply. Valid for new bookings made from 9am GMT on Monday 10th June 2019 until 5pm GMT on Wednesday 12th June 2019. Full terms and conditions apply. See website for full package inclusions.
For further details on this amazing sale or to book your holiday today, please contact a member of their travel team by email divingholidays@blueotwo.com call 01752 480808, or visit their website at www.blueotwo.com