ASEZA to launch Aqaba Dive-Planning App
Submitted by

jon

on Thu, 01/24/2019 - 17:12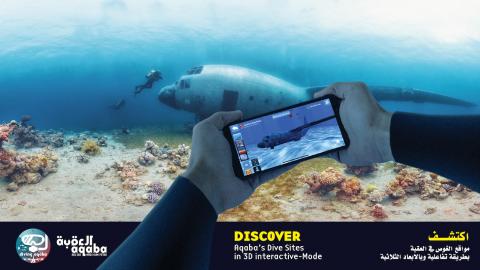 Aqaba Special Economic Zone Authority will launch a smart phone application specialized for divers.
With the Diving Aqaba Application, you can now create your personal dive plans for Aqaba's dive sites. This groundbreaking feature helps you easily brief fellow divers or lets you share information about a dive with everyone to increase overall dive safety. Diving Aqaba Application offers the first interactive 3D underwater maps, based on high resolution sonar, satellite and video data.
Interactive 3D maps
20+ dive sites
virtual Dive-Mode
4 visualization modes
Dive-planning feature
Diving Aqaba Application is also designed for dive centers with tools and features for creating next generation dive briefings. Get free access to show all Aqaba's dive sites, for every screen in your business (tablets of dive guides, in the shop or on the boat). Draw and share your dive plans with your diving buddies. It is more real than ever before!
Aqaba Waterproof Diving Cards
Aqaba Diving Cards are printed on durable, waterproof PVC plastic and provide detailed descriptions of the 5 wreck-dive sites in the Gulf of Aqaba.
3D views of the site are accompanied with measurements, a depth view, and information on tours, nearby dive locations, types of marine species that can be seen on site, and geographical conditions.
Buy your card at Aqaba's Dive Centers!