Aggressor Adventures Adds New Yacht and New Pacific Diving Adventures
Submitted by

jon

on Thu, 11/08/2018 - 12:22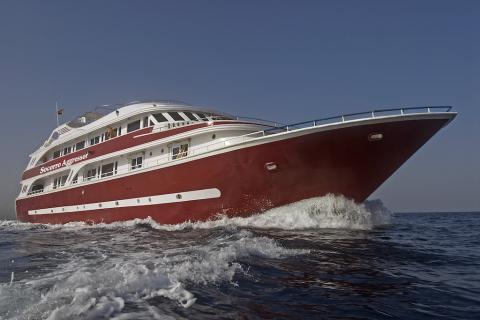 Aggressor Adventures has expanded to add a new yacht to its growing list of adventures. Starting in December, the Socorro Aggressor™ will take guests to Guadalupe Island for cage diving with great white sharks or to Socorro, San Benedicto and Roca Partida to dive with giant pacific manta rays, large schools of fish and multiple species of sharks. "I am thrilled about the new destinations that the Socorro Aggressor™ opens up to my guests" says CEO Wayne Brown.
The Socorro Aggressor™ is the 24th yacht in the Aggressor fleet of liveaboards. The 135-foot yacht offers 26 guests the same beautiful accommodations and signature amenities Aggressor Liveaboards is known for.
Guadalupe Island is a four-night excursion where guests can observe great whites from a distance or get up close and personal in surface or submersible cages. The Guadalupe charter embarks from Ensenada, Mexico.
The second destination takes passengers to Socorro, part of the Revillagigedo Islands, which includes Roca Partida and San Benedicto. Guests on this eight-night charter can experience wild, unpredictable scuba encounters. Depending on the time of year, divers might indeed spot giant manta rays, as well as bottlenose dolphins, humpback whales, or an array of sharks including whale, tiger, silkies, silver tips, or white tips. The Socorro charter embarks from Cabo San Lucas.
To find out more about the Socorro Aggressor™, or to see all destinations, travel specials, and Aggressor's "Dive the World" program, visit  www.aggressor.com.
About Aggressor Adventures
Aggressor Adventures is a premier destination adventure company that offers liveaboards, river cruises, and safari lodges. Operated by CEO Wayne B. Brown, Aggressor Adventures includes a full-service travel agency that helps customers create a personalized adventure experience around the globe.  Learn more about Aggressor Liveaboards, Aggressor Safari Lodges and Aggressor River Cruises. Tel: 800-238-2628, +1-706-993-2531, [email protected].