Paradise Diving Malta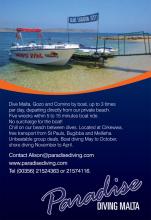 Notes:
Malta's best located diving centre, situated at Cirkewwa, Malta's premier dive site. Winners of the Malta Tourism competition for the best diving instructor in Malta, for the year ending 2006, 2007, 2009, 2010, 2011 and 2012.
Easy access to Malta, Gozo, Comino and Cominetto, departing by speedboat from our private sandy Blue Flag beach. Whether you are a complete beginner or an expert diver, we can supply the diving program you need. Unbeatable rates for boat diving packages for individuals, groups and diving clubs.
Paradise Diving is run by the owners and continuity of staff is of key importance to them. We know there is nothing worse than finding your instructor arrived in Malta the week before you did. You will see the same faces here, year after year. If you are looking for a safe diving destination, Malta cannot be bettered. Diving in Malta is better value than ever, now that Ryanair and Easyjet have increased their flights to Malta.